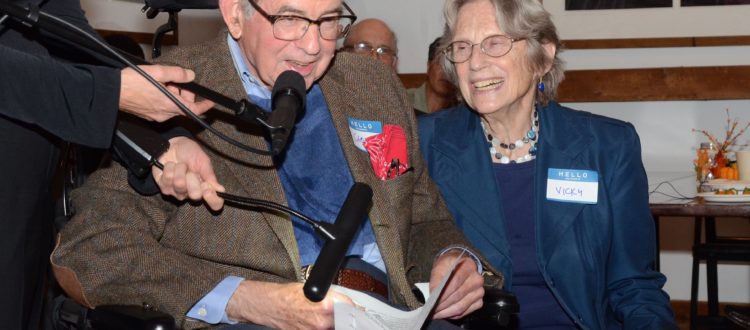 Honoring George Ranney with Lifetime Achievement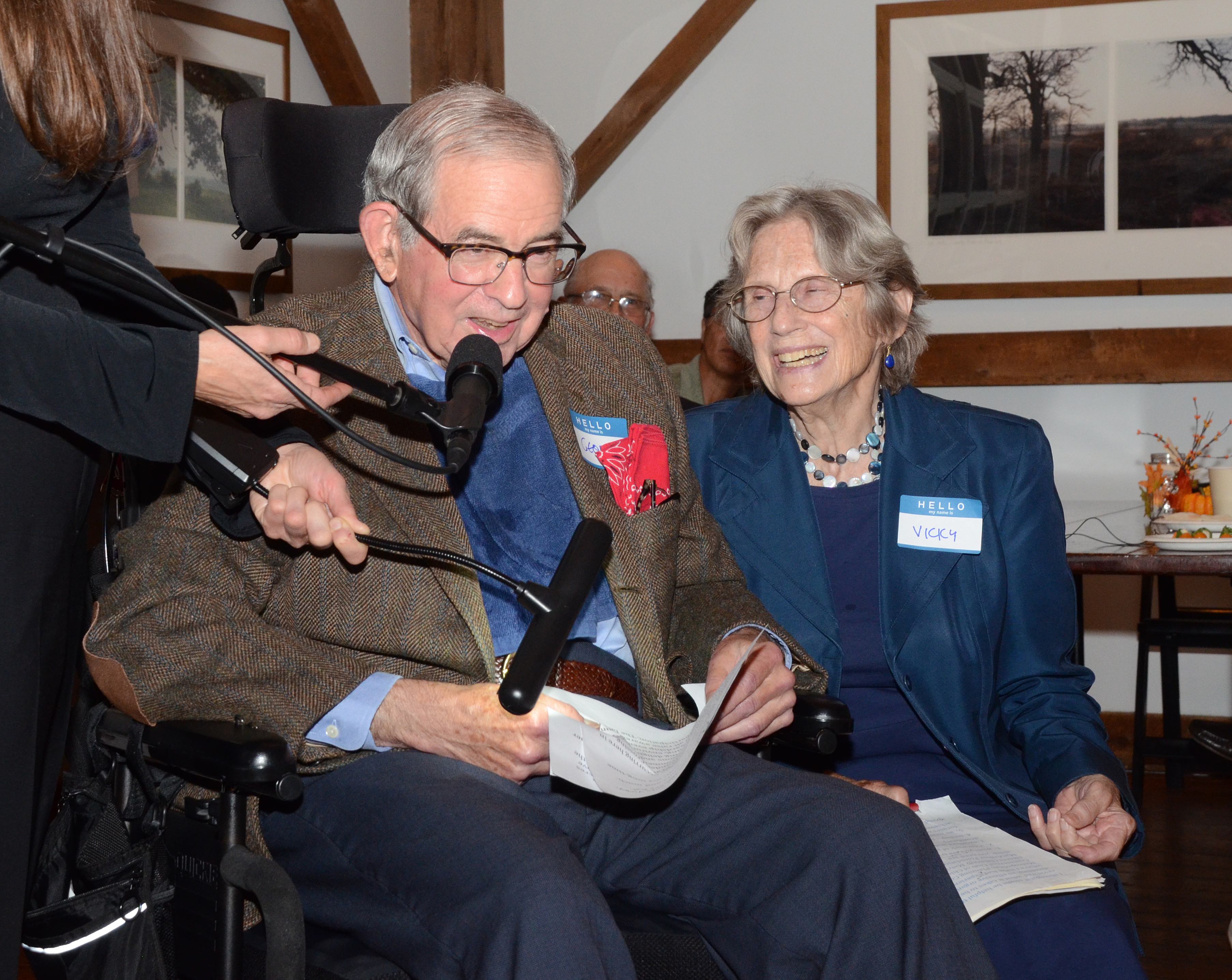 We were so thrilled to be able to give our 1st lifetime achievement award to George Ranney!  There are so many worthy candidates for this award but there was no doubt in our mind who should be honored 1st. George Ranney's lifetime achievement to environmental and open space protection and his lifetime history of working in a bi-partisan way to achieve great things is a perfect fit for our mission.
We'd like more people to know more about George Ranney's accomplishments so the following is a transcription of George's dear friend, Wally Winter's, introduction of George's Lifetime Achievement Awards. Thanks to Wally Winter for allowing us to Publish this. This introduction is followed by George's acceptance remarks. There is some excellent and wise advice there on how to successfully directing an effective organization.
"Presentation by W. Winter of Life Time Achievement Award  to George Ranney from  Midwest Sustainability Group at Byron Colby Barn in Grayslake, IL on Oct. 9, 2018.
Some of you may know that this impressive structure we're in was once a dairy barn that formerly stood not far from here on Rt. 21. George Ranney and Vicky  (I am informed it was mostly Vicky) rescued the barn and resurrected it to fit the needs of the Prairie Crossing community for events like this.
What you may not know is that George grew up in a farm house one mile east of us on Casey Road. Next to his house was a barn smaller than this one, and inside the barn lived a cow named Daisy Mae.  As a boy, George was responsible for feeding and taking care of Daisy Mae. He entered Daisy Mae in the 4 H competitions at the county fair, but he never won a blue ribbon – one of George's  few endeavors where that could be said.
George left the farm to attend Harvard where he quickly distinguished himself as an excellent student, graduating magna cum laude and a member of Phi Beta Kappa.  At Harvard he met Vicky Post, a brilliant fellow student from a small New England town. Vicky graduated before George and decided to teach in Uganda for two years.  After graduation George managed to win a fellowship to travel around the world. Uganda was high on his itinerary. During his visit there, George and Vicky decided to get married.
When not courting Vicky in Uganda, George visited Japan.  There he was struck at how mass transit improved the quality of life for millions.  That experience planted the seed for George's interest in creating a regional transit system that would cut travel times, open up employment opportunities, and reduce green house gas pollution.
George returned from his travels to attend the University of Chicago Law School where he was the editor of the Law Review.  After law school, George and Vicky moved to Hyde Park, and George won a fellowship for one year representing indigent Chicagoans in civil cases. He then joined the Mayer Brown law firm in Chicago. Within a year Governor Ogilvie recruited him to be his deputy director of the budget and transit policy advisor. Ogilvie was a moderate Republican, an almost extinct species these days.
As Chair of Ogilvie's Transportation Task Force, George drafted language in a referendum that created the Regional Transit Authority.  The referendum needed a majority vote in the 6-County Chicago metropolitan area.  George raised $500,000 to promote the RTA and advocated tirelessly for its successful passage in 1974. We have all been the beneficiaries of the RTA ever since.
While working with Ogilvie, George was also instrumental in drafting the legislation to create the Illinois Environmental Protection Agency and the Illinois Pollution Control Board.
In later years, he chaired both Governor Thompson's Task Force on the Future of Illinois and Governor Edgar's Task Force on conversion of the Joliet Arsenal to the Midewin Tallgrass Prairie.
While living in Hyde Park with Vicky and their three children – Sara (who is with us tonight), Allison, and Ben – George decided to run for the U.S. Senate in 1986 in the Republican primary. He lost in the Primary, but his loss was Lake County's gain.
While serving as vice president and general counsel for Inland Steel, he found time to strategize with a team of lawyers to prevent a Chicago developer from building 2800 homes on the 675 acres that is now Prairie Crossing.
George's uncle, Gaylord Donnelley, then decided to purchase the entire tract of land.  That set the stage for George and Vicky, who had become a published Frederick Law Olmstead scholar, to move to Lake County and implement their bold idea to create the first conservation community in the country.
Prairie Crossing has received national attention as a conservation community that incorporates significant open space, ten miles of trails, an abundance of nearby public transit, a community-supported organic garden, a public charter school (whose principal, Geoff Deigan, is with us this evening) with a focus on environmental awareness, an incubator program for beginning farmers, and principles of green design.  Over 160 other communities have copied features of Prairie Crossing. On a personal note, after 22 years, Ellen and I can attest that it's a great place to live.
After establishing Prairie Crossing, George served as the President and CEO of Chicago Metropolis 2020, a group of business and civic leaders who were trying to shape a more sustainable regional future for Chicago.
A few years ago George was appointed by Governor Quinn to co-chair of the Blue Ribbon Advisory Committee, to come up with a detailed sustainable plan for Route 53 which some in this room view as a multi-billion dollar boondoggle.   The jury is still out on whether this project will ever be implemented with or without the sustainable features advocated by George's committee
Over the last 50 years, George has shown that he is a creative policy wonk, a brilliant strategist, and an effective behind-the-scenes operator – a rare skill set, especially when directed toward enhancing the common good over the long haul.
George's grandfather, Edward Ryerson, who donated the land on the Des Plaines River  that became the Ryerson Woods Forest Preserve, was once described by a Chicago newspaper as "Mr. Chicago."
In view of his remarkable record of protecting our regional environment, George has earned the name, "Mr. Greater Chicago."  Whether or not that name sticks –  and I'm sure, George,  you hope that it doesn't – you richly deserve the  Midwest Sustainability Group's first lifetime achievement award.
~ W.C. Winter"
*************************************************************************************************************************************************************************************************************************
Lifetime Achievement Award to George Ranney       Tuesday, October 9, 2018
George Ranney's remarks:
"First, I would like to introduce my family, Vicky, Sara, and my caregiver, Geof.  I am delighted to see so many friends, including much-admired legislators and my long-time friend, Wally Winter.
I am pleased that this meeting is being held in this Byron Colby Barn at Prairie Crossing, which was founded to foster this kind of civic and environmental activity.  It has spun off many organizations — supporting sustainable farming, education, and stewardship events, including prairie burns.  The Liberty Prairie Foundation (that Vicky chairs) has been instrumental in protecting 3400 acres of open land from development in the Liberty Prairie Reserve, which runs from Independence Grove on the east to the Prairie Crossing Farm on the west.
We need more such groups, and Barbara and her colleagues are trying to do just that, focusing at the outset on Lake County and the environment.  I have long been aware of Barbara's strong positions on the landfill and incinerator, and am glad to see her expanding her scope.  To all of you here tonight who are working with her, I wish you well.
I thought it might be helpful to you if I reviewed what it takes to be successful in directing an effective organization.  The ones where I have had experience are the Metropolitan Planning Council, the Commercial Club of Chicago, Voices for Illinois Children,  Metropolis 2020 and the MacArthur Foundation.   The attributes I think you need are:
1.  goals you are truly committed to,
2.  a network of people that can grow,
3. excellent and frequent publicity (a drumbeat)
4. money – from supporters like you,
5, an intellectual approach to planning that focuses on the results desired and the results achieved,
6. and the right projects, such as [opposing] Route 53."